This article originally appeared in the Phoenix Business Journal.
Denise Bismore got to know Johnny Mcmillan pretty well over the past 10 years. 
Homeless for two and a half decades, Mcmillan panhandled for change near Bismore's downtown Phoenix cafe. Soon after they met, Mcmillan began helping carry out the sidewalk signs for Bismore's restaurant, Spoonz Cafe in the US Bank tower at 101 N. 1st Ave. He never asked Bismore for money for the small task.
A few months ago, the café was short-staffed and Bismore asked Mcmillan if he would help out by washing the dishes. McMillan accepted.
"Because it was so difficult to hire, I was probably more willing to give him a try or to approach him at that moment," Bismore said.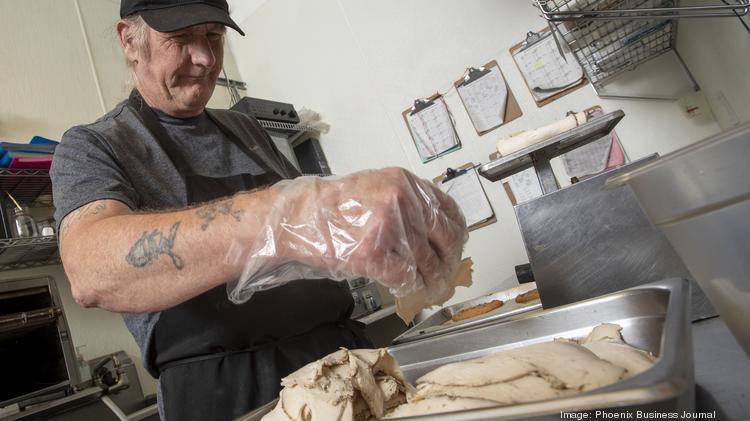 She trusted Mcmillan enough to give him a shot because she paid attention to how he interacted with her staff and others.
"He would give other homeless people or other people in need money or the shirt off his back if that's what they needed," she said. "And despite how much money he had or didn't have, he would always give back to other people."
Having been homeless for about 25 years, Mcmillan said he had no work history and didn't want to disappoint his new boss.
"I wanted a job, and she gave me a chance no one else would," he said.
Digging deeper to find employees
Some leaders of organizations dedicated to helping people get employed say the labor shortage has brought more opportunity for those experiencing homelessness to find a job. Mcmillan did not use an employment support service, but thousands of people across the Valley do each year.
Organizations such as St. Joseph the Worker and Express Employment Professionals are dedicated to providing assistance and resources to help people who are in need of a second chance find and keep a job.
Blake Quinlan, the franchise manager at Express Employment Professionals in Scottsdale, said that when it comes to filling entry level positions, "companies need to look at it through a different lens." Instead of looking for experience, they should consider the skills needed for the job.
"Those are good opportunities for individuals to be able to get back on their feet to be able to provide and bring that stability," Quinlan said.
St. Joseph the Worker saw over 7,300 clients in fiscal year 2022 – a 30% increase from the previous year, COO and acting CEO Dean Scheinert said.
Many clients are people experiencing homelessness, but the organization also serves people coming out of prison, rehab and domestic violence situations. It facilitated employment for 74% of its clients this year, compared to 53% the previous year. The average wage was just below $16 an hour.
"The long and short of it is that yes, the labor shortage has opened up a lot of opportunities for our clientele," Scheinert said. "So, not only is there the demand for workers, but there's greater social awareness among many organizations that might have been reluctant to hire entry level people of this type of profile than there was in the past.
"So, you could say that the first driver could be temporary, right? Because who knows how long the labor shortage is going to last. But a more sustainable piece of it is that there is this greater awareness of community responsibility and appreciation that even though people may have a background, they could still be terrific employees."
Some barriers still persist
Despite the opportunities to fill entry-level positions, there are still many barriers those experiencing homelessness must face when trying to get — and keep — a job.
"We like to say that the two biggest obstacles to overcoming homelessness are transportation and having a job," Scheinert said. "The two biggest obstacles to getting a job is homelessness and lack of transportation."
Another barrier for the homeless is a lack of basic needs being met, such as a place to shower and store belongings, said Ash Uss, founder and executive director of From the Ground Up, a consulting agency that supports the homeless community through partnerships, research and outreach projects.
"It just amazes me the resilience and strength and just hard work that those folks have to go through just to keep up with employment, whether it's getting up really early to take a bus for two hours to get to their job, or not getting great sleep in a shelter or not consistently having access to a shower," Uss said.
The number of people experiencing homelessness in Maricopa County has increased by 58% over the past seven years, according to Maricopa Association of Governments' Point-in-Time Homeless Count, a survey conducted on a single night during the last week of January. Just over 9,000 people experiencing homelessness were counted on Jan. 24, 2022, over half of whom were unsheltered, meaning they were on the streets or in a place not meant for human habitation, according to the same report.
Data on the number of people experiencing homelessness is "wildly underreported," Uss said. She added that the number of sheltered people, which accounts for anyone in a shelter, transitional housing or a safe haven program the night of the count, is generally accurate. However, the unsheltered count does not reflect everyone, such as individuals and families living in their cars or staying with friends.
"It's what we have, but it's nowhere near enough," Uss said.
How to support homeless employees
The biggest thing that employers can do is provide an honest living wage, she said. To help further remove obstacles for employees, she suggests they include gym memberships — so people could have a place to shower — lockers, or bus passes.
"I would recommend that you respect that people coming into these jobs from the homeless community have had a lot of trauma and crisis in their lives, Scheinert said. "And there should be some kind of service or infrastructure internally to set up tools and conditions so that they are set up for success."
For Spoonz manager Bismore, she focused on being patient when Mcmillan first started at Spoonz Café.
"I definitely tried to show him what I was looking for, but not get too particular and build on that slowly because he was getting overwhelmed," she said.
This past year, Mcmillan has moved into an apartment, which was made possible through a program offered by Community Bridges Inc. Even though his shift starts later in the day, Mcmillan will still come down to the café at 6 a.m. each morning to help Bismore bring out the sign.
Though he's only worked at Spoonz Café for a short time, he says he's here to stay.
"I'll work here as long as the place is open," he said.